Posted by CORINNE SIKORA on 8/2/2013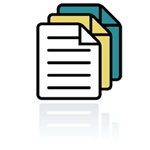 The cells in The Question Matrix are arranged simplyin a hierarchy that considers Bloom's Taxonomy, but eliminates the confusion.
To use the matrix simplyidentify the level of thinking you wish your questions to elicit and selectword pairs from the appropriate cells to match your instructional objectives."Knowledge" word pairs are located in the upper left portion of the matrix and"Evaluation" are located in the lower right portion of the matrix. As you movein any direction from the "What is?" cell in the upper left hand corner, youare moving toward questions which require a greater range of intellectualfunction and creativity.
Using word pairs togenerate your own questions at any level of thinking is straight forward andsimple. Choose any word pair and either use that pair as the first two words inyour question followed by appropriate content or embed each of the words fromthe word pair into a more complex question.
For example, the "WhichMight?" word pair works as a beginning as in "Which might be the best way to solve this problem?" and as embeddedwords which add depth and complexity as in "Of all the solutions we've discussed,which do you feel might provide the greatest economy ofmotion?"
The word pairs work withany academic content and at all grade levels. Word pairs which imply valuejudgments such as "Who Should?" or "Who Ought?" do not appear in the Question Matrix.