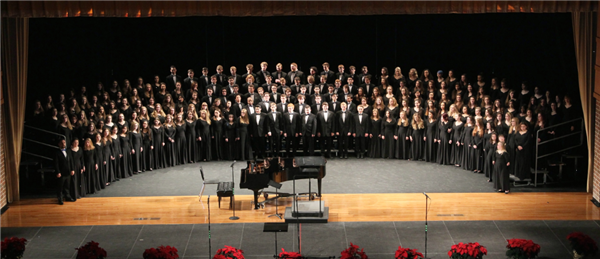 The Central Bucks High School South Titan Symphonic Choir is the curricular choral ensemble for all students attending CB South. The ensemble performs collegiate and upper-level high school choral literature as well as other generes such as Pop Acapella, and Jazz. The group consits of students from 10th-12th grade enrolled in either a Chorus 10 or Choir 11/12 section. There is no prerequiste or prior knoweldge of singing required to joining this ensemble. Students who participate in this ensemble perform in the Winter and Spring Concerts and are present the opprotunity to travel on the Spring Tour. In the past the choir has had the opportunity to sing in various locations such as:

The Capitol Building, Washington, D.C.
The Naval Academy, Annapolis, Maryland
Rock and Roll Hall of Fame and House of Blues, Clevland Ohio
Walt Disney World, Orlando Florida
Toronto, Canada
Virigna Beach, Virigna
Atlanta, Georgia

Members of the Titan Symphonic Choir are presented the opportunity to audition for the Select Choir groups at CB South as well as the BCMEA All County Choir and PMEA Choirs.