Titus Students Take a Tour of Holidays Around the World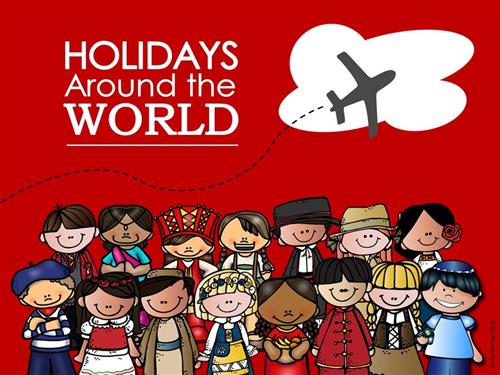 Titus Elementary School teachers collaborated with their Home and School to bring H&S president Angela McGettigan's idea to life - a world "tour" where students learn about holiday celebrations in 14 different countries.
"Originally the idea was just for the teachers to record slides about the holidays and then the kids could fill out a passport with what they have learned about each holiday," Jennifer Snyder, Titus sixth grade teacher, explains.
"However, after reviewing all of the resources, I realized that there were so many other fun things the kids could do to extend their learning about each holiday!"
Via the website, Titus teachers have recorded background information about 14 different holidays around the world. Students took a journey across the globe visiting Europe, North America, Asia, and Australia to learn about how different cultures celebrate. As students learn about each holiday, they are able to complete a passport to keep track of their travels and facts they have learned about the holidays. They are also able to follow along and find where each holiday is celebrated on a world map.
At each stop, the children have the opportunity to make a postcard craft featuring traditions celebrated by each culture. Additionally, a reading passage and supplemental video are also provided to give more information about how each holiday is celebrated. Before departing, the students can complete a departure ticket to fill in the information they learned about each holiday before moving on to the next stop on our trip.
"I love how this virtual journey teaches the children more about how people around the world celebrate!" Titus students were invited to participate with their families over the 2020 winter break and bring their completed passport back to Titus for a fun prize.
Take your own journey on Ms. Snyder's website!