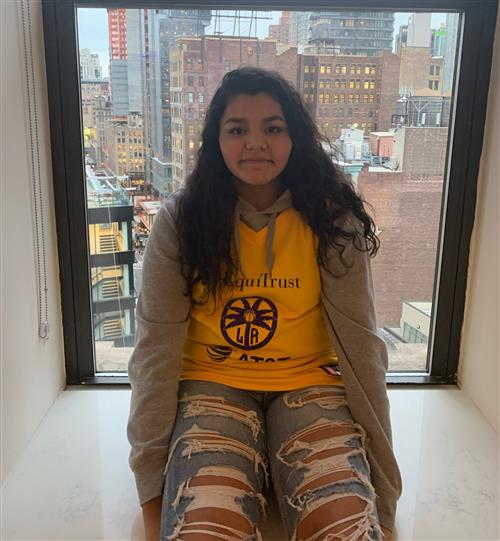 Relationships are important to Layla Gentile, an eighth-grade student at Tamanend Middle School. "I really like having close friends, people who really get to know me," she explains. Layla, a former foster child who was adopted at a very young age, understands that it is through relationships and connections with others that you can make a difference in the world.
"Layla considers herself blessed and looks for ways to help others," her mother, Elizabeth Gentile said.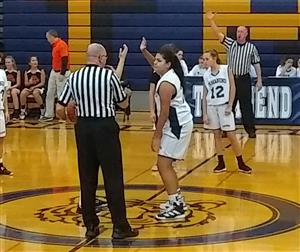 When Layla sat for her spotlight interview, it was on the anniversary of her "adoption day." She still connects with her former caseworker at Bucks County Children and Youth (BCCY) and reached out to her recently to ask how she could help current foster children. Working with a contact at BCCY, Layla decided to conduct a fundraiser late last year, setting a goal to raise $600.
"The first week we raised $1,000 and then $2,000 – it was so exciting!" she recalls, "Teens especially in foster care need help with some basic needs, basic needs like toothbrushes, toiletries, bedding sets, sneakers, etc.; so I used the funds to purchase $50 gift cards that we donated to help them meet those needs."
Layla's fundraiser eventually raised more than $3,000, "We raised $3,110," she remembers exactly, and she isn't stopping there. Now serving on the board at Bucks for Kids as their youth ambassador, Layla is already planning her next fundraising efforts. A multi-sport athlete herself (Layla plays field hockey, basketball, and participates in track and field), Layla is passionate about athletics, especially basketball. "Sports are an important part of her life and serve as such a positive outlet for her," Ms. Gentile said. She is currently planning fall fundraiser to raise money to help children in foster care to help with the purchase of sports equipment and uniforms, pay league and sports camp registrations fees, and provide for many other extras; as well as a charity basketball tournament to benefit Bucks for Kids.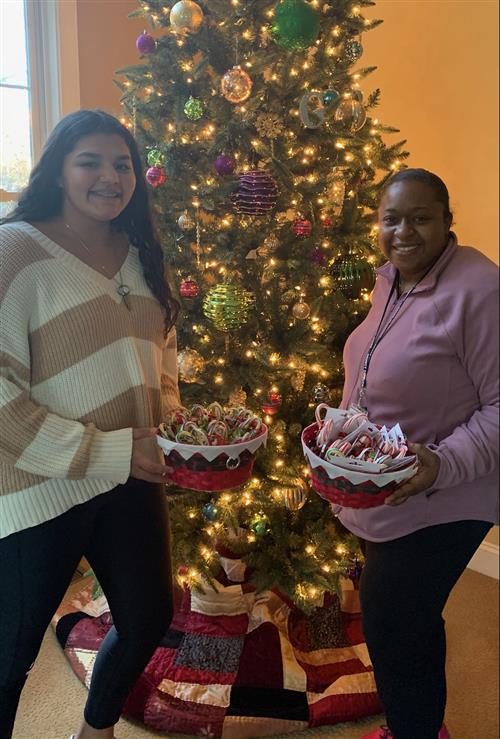 If other students see a problem they'd like to solve, Layla's advice is that it's about relationships. "Don't do it alone, reach out to someone and ask them about organizations," she said, "Start small and work your way up." Layla is also a member of CB Cares Volunteer Teens at Tamanend, making service through personal relationships an important part of her life.
It's what she likes most about Tamanend, too. "I really love Dr. Caughie [Tamanend Principal], he's a great principal and the environment here at Tamanend is really safe and comfortable."
"I like that there are so many different types of people here, so much diversity," she explains, "I really feel like I fit in, and I also love the close relationships that I can build with my teachers through sports."
Layla's mother is, "Super proud of her accomplishment and sense of community to pay it forward." Her ability to harness her personal empathy and drive to help others is an important part of who Layla is and wants to become. "It made me feel good about myself to know that I helped other people," she said.
Layla was also nominated for the "Empowered Girl" award by Bucks County Children and Youth. In their nomination, staff noted that, "She has realized the importance of community service and wants to honor her past by helping other kids her age as an example and hope."
CBSD will share details on Layla's next fundraising efforts as soon as they're finalized, but families can learn more about how to help support children in Bucks County through Bucks for Kids at www.bucksforkids.org.
#CBSDPROUD of you Layla!