To the best of his recollection, Lenape Middle School ninth grader Jackson Manning has loved Broadway since he was four or five years old. What began with an interest in musical theater grew into a love of dancing.
"Dancing stood out to me as something that was unique to me – a home away from home," Jackson explained.
Jackson describes his passion for dance as, "…a calling that you can't describe, I love what I'm doing." Now after more than ten years honing his skills, he can't ever recall having a desire for anything else, "My training feels like a step towards where I want to go in the future."
His commitment and dedication brought about a great deal of success. Along with many regional titles, Jackson is also a National and World Champion American Smooth and Rhythm ballroom dancer. Jackson rotates evenings between ballroom and theatrical performance dance at Siti Dance Studio, contemporary dance with Y.U.S.Artistry, and tap at Theatre Arts Center. Jackson also was accepted into and studied at the prestigious Joffrey School two summers ago.
More recently, Jackson has focused on his muscial theatre interests by participating in musicals through the Theatre Arts Center over the summer and fall. Jackson was Bobby Pepper in "Curtains" and gained his first lead role as Gomez Addams in the "Addams Family." Jackson is extremely excited to put not only his vocals and acting skills to work but his dance skills as well, in Lenape Middle School's spring musical, "Singin' in the Rain," where he will play Don Lockwood.
Jackson's mom, Kelly, notes that, "To play Gene Kelly's iconic role has been a dream of his." Lenape will be moving the musical from the stage to the screen, taking on the challenge of making an actual movie rather than the normal stage performance from the past.
Jackson notes that dance can sometimes feel like a "path less taken" for a 15-year-old male, and that can be challenging, "Someone might say, 'This isn't normal, why aren't you playing football or whatever,' but I have my own friends who are also musically inclined and understand," he explains, "You have to find a balance; I surround myself with people who support me.
Kelly, echoes his sentiments, "Jackson has danced and performed since he could walk. He has been a part of several other sports teams, but his heart lies in the fine arts."
If he's angry or stressed, he redirects that energy into dance, and uses that to bring more emotion to his performances. "I may not be able to say why I'm sad or upset or excited, but I can show you," he said, "I'm constantly discovering new things that I can do through dance."
Dancing at this level requires deep commitment and sacrifice; Jackson routinely practices for three hours each day. "To me, if you don't have a passion for it, don't waste your time," he explains, "You need to put your mind to it before you can put your body to it."
When asked about what he likes about being a student at Lenape, Jackson notes that the diversity of the school is what he enjoys most. "I was born in Tennessee, and it felt like most of the people I saw looked like me – and groups stayed to themselves," he said.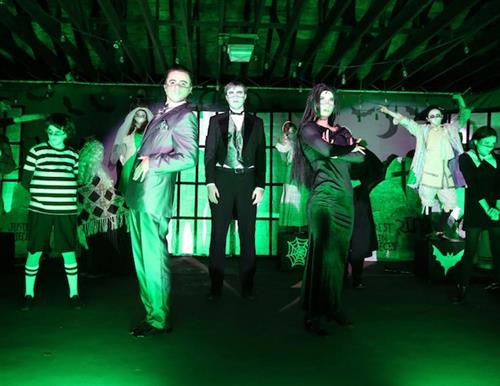 "Here, it's more open, and you can learn a lot from your peers – but it's hard to learn the same thing over and over again, so I appreciate the different points of view. When you see a point of view you don't understand, you have lots of people you can ask who have a different lens than you," he said.
Mom, Kelly, concurs, "Both the dance studio and the fine arts programs at Lenape and the Theatre Arts Center have provided Jackson with not only a safe and comfortable place with a great group of friends, but they have instilled a confidence in our child, that a parent could only hope for. We are fortunate to be raising Jackson and our three other children in such a close-knit community that is so rich in the arts."
Outside of school, Jackson recognizes that his success is partly driven by those who support him, "I wouldn't have gotten anywhere if it weren't for the people that have helped me. I thank my parents, my teachers, instructors and everyone who's encouraged and helped me get to where I am now, and I know that they'll continue to help me get to where I want to go."
#CBSDPROUD of you, Jackson!