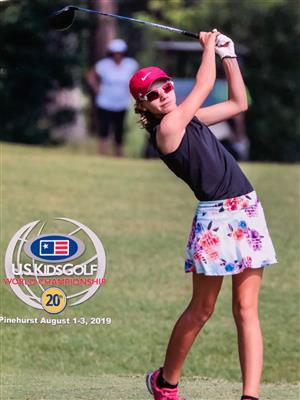 Ellison Lundquist watched her father and his friends play an entire round of golf at the age of four. She took her first lesson at six. Her memories of those early days may be hazy, but one thing is crystal clear, "I remember thinking that golf was just such an interesting sport – there's nothing else really like it," she said.
Ellison Lundquist is a cheerful, charming seventh grade student at Holicong Middle School. She also just happens to be a champion golf player, who has already secured more than 75 tournament wins.
Ellison's father, Eric, provided just a few highlights of her young career, knowing that she would be too humble to mention them:
Finished in 7th place and 24th place in her last two world championship golf tournaments.
Her lowest tournament round is 5-under par 67 on Pinehurst No. 3.
Along with 50 other junior golfers around the world, Ellison has helped to raise over $200,000 for child cancer awareness.
With that said, the qualities that make Ellison ("Miss Elle" as her short game coach Dom Dijulia calls her) a great player also make her a great student and a great person. "The best part of coaching Miss Elle are the things that make her an absolute pleasure to coach," Mr. Dijulia explains, "For starters, she always shows up ready to learn. Being a 'tween' in 2019 can be overwhelming and exhausting so it is hard to be open minded, curious, and willing to try new things. Miss Elle consistently demonstrates these traits and that makes her an excellent learner."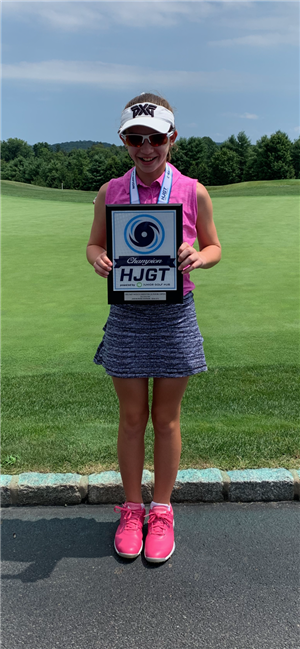 Ellison's enthusiasm is one of the secret ingredients to her success. Her challenging schedule requires her to change, eat, and do homework in the car before her after school lessons and practices almost daily, "I'm always headed to golf, and soccer twice a week with a game on the weekend," she said. This is a combination of challenge and reward for someone Ellison's age, who noted, "The hardest part is saying no to friends, but this is my choice, and I get to do what I love."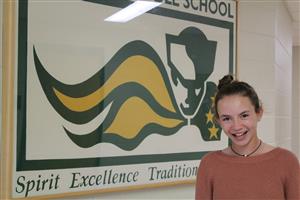 Ellison, whose favorite subjects are social studies and science, believes that each aspect of her life has a lesson to teach her.
"I think that the work that golf requires has made me a better person and a better student," she said.
"When you're playing, one bad shot can turn your whole round around, so you have to keep a good attitude."
Ellison's sixth grade teacher at Bridge Valley, Amanda Foreman, agrees, "Her energetic, positive personality is infectious."
"Ellison recognizes that what she turns in is an example and representative of herself - she takes pride in the quality of her work," Ms. Foreman said, "Ellison has a successful future due to her constant effort and work ethic - a model student."
When asked what she thinks it takes to be successful at something that you are passionate about, Ellison answers quickly. "Take it slow, there's no rush – and work HARD," she said, "...and ALWAYS have a good attitude."