Students Celebrate Participation in Biotechnology Program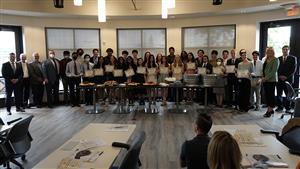 More than 30 Central Bucks high school students were recognized after participating in the partnership program between the Pennsylvania Biotechnology Center and Central Bucks School District. This unique program allows students to engage in a rigorous academic program combined with independent research projects while working alongside scientists, mentors, and researchers from the Blumberg Institute. Under the guidance of Mr. Mark Hayden, CBSD teacher, students gained real world experience in a cutting- edge science lab.
"The work that is happening here is literally changing the world" superintendent Dr. Abram Lucabaugh told the students during the ceremony. "I am glad you got to be a part of it, and I am so excited to see what you all do next."
The program is a representation of the district's goal to partner and collaborate with local organizations to create authentic learning experiences and foster critical problem-solving skills. This local facility, home of the Hepatitis B Foundation, is one of the premier biotech incubators in the country.
Congratulations to CB East students Syan Arora, Matthew Brownrigg, Thomas Cherry, Lucas Guernon, Samatha Holmen, Leah Loukedis, Alicia Luo, Mason Matich, Alexander Robertson, Anthony Sacco, Nicole Shaliga, Jackson Stahl, Dhaval Tantry, and Phoebe Vallapureddy; CB South students Anushka Gattu, Nicole Hang, Katherine He, Soham Kakadia, Srinithi Krishnamoorthy, Jake Kushnir, Hridayam Priyadarshi, Jonathan Sim, Rishi Raghav Suresh, Ananya Siragavarapu, Veronica Swartz, Prisha Veereddy, and Austin Zhang; and CB West students Makayla Kohler, Maya Leedom, Paree Pasi, and Aaron Steiner.