Congratulations to CB South's Jonathan Sim!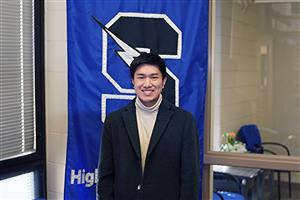 Central Bucks High School South Senior Jonathan Sim is among the five award participants receiving the Infinite Potential Commendation through The Duke of Edinburgh's International Award program. The organization is the world's leading youth achievement program since 1956 and operates in over 130 countries and territories with over one million global participants. Five US participants are being celebrated for their demonstration of perseverance, creativity, and high level of achievement while working on their Award.
The Duke of Edinburgh's International Award is a global, personalized youth development program for 14- to 24-year-olds that complements formal classroom learning and focuses on setting progressive goals that build essential life skills such as resilience, confidence, creativity, leadership, civic competence, and communication. There are three progressive levels of the Award that when successfully completed lead to a Bronze, Silver, or Gold Award. The Award challenges young people to develop new skills, get physically active, cultivate a sense of adventure in the outdoors, volunteer in their communities, and get outside their comfort zone.
"We are delighted to recognize the contributions of these five extraordinary young people" said Buffy Higgins-Beard, CEO of The Duke of Edinburgh's International Award USA. "We are inspired by their efforts and celebrate the impact of their work for themselves and their communities. We are honored to hear their stories of achievement and celebrate their persistence, resilience, personal development and community involvement."
Jonathan Sim is a Bronze Award Holder and is currently working on his Silver Award through the Philadelphia Outward Bound School. For the skills section of the Award, he learned web design and coding. He also volunteered at the Free Library of Philadelphia and now tutors English online to a student in Venezuela through a youth-led nonprofit, SynYouth. Jonathan explains how his work on the Award broadened his perspective on himself, others, and his community. He said, "I now recognize the importance of health and wellbeing while balancing academics, extracurriculars, and everything else significant in my life." Jonathan also explains the impact of the voluntary service aspect of the Award. He said, "This experience has helped me to recognize the quality of life throughout other parts of the world, which has opened my mind to the work that needs to be done to improve the world for all. Without the award, I would not have learned and acknowledged the critical values I now know today."
Here is a link to a video of Jonathan describing some of his work: Infinite Potential Commendation Jonathan on Vimeo