Staff Take Part in Social & Emotional Wellness Professional Development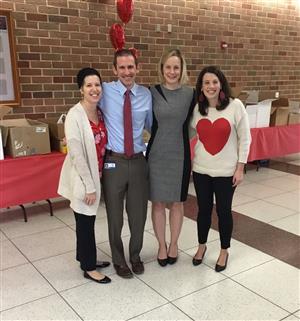 You can't pour from an empty cup. The care and well-being of our faculty and staff is critical to our ability to care for the social and emotional wellness of our 18,000+ students. While our students enjoy the start to their long weekend, Central Bucks faculty and staff are engaged in critical professional development during the district's mid-year professional development day – entirely devoted to social and emotional wellness.
Keynote remarks by Dr. Katherine Dahlsgaard were focused on the science of hope – what hope is, how it can be harnessed, and why it helps. Dr. Dahlsgaard, who serves as Clinical Director of the Anxiety Behaviors Clinic in the Department of Child and Adolescent Psychiatry and Behavioral Science at Children's Hospital of Philadelphia, shared her thoughts on the importance of harnessing the power of hope to build resiliency among students, based on research that shows that while a number of character traits - grit, curiosity, gratitude, etc. - are related to resilience, hope stands alone as protective of well-being in the face of adverse life events.
Having staff grouped across grade levels at two locations allowed for excellent conversation. Teachers, counselors, and administrators representing different grade levels were grouped for "K-12 conversations." Michele Myers, a member of the district's staff development planning team, explained the intent of the conversations, "Getting serious about social and emotional wellness means getting serious about our understanding of education of the 'whole child'." A whole child approach to education is defined by policies, practices, and relationships that ensure each child, in each school, in each community, is healthy, safe, engaged, supported, and challenged.
"The groupings allowed us to have guided conversations about what are our students are like and what they need at all grade levels,"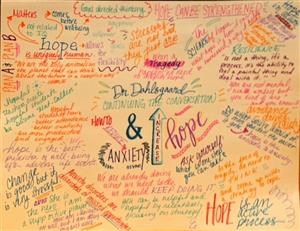 she added. "Teachers will be talking about everything from emotional wellness, to use of technology in the classroom and assessment practices."
An effort will be undertaken to gather feedback from these conversations after the sessions are compete. Information gathered will be used to guide administrative planning around education of the whole child.
Also critical to the day were sessions of QPR training, or "Question, Persuade, Refer." According to the QPR Institute, "…people trained in QPR learn how to recognize the warning signs of a suicide crisis and how to question, persuade, and refer someone to help."
"Recognizing the early warning signs of suicide, opening a supporting dialogue, and securing the appropriate supports is incredibly important," Dr. Alexis McGloin, assistant superintendent for assessment, professional development, and educational services explained.
Staff also participated in wellness sessions to round out the day. Offerings included art, reading, physical fitness, mindfulness techniques, and other opportunities to gather together, decompress, and learn self-care techniques that they can share with their students.