Buckingham Students Win Rendell Citizenship Challenge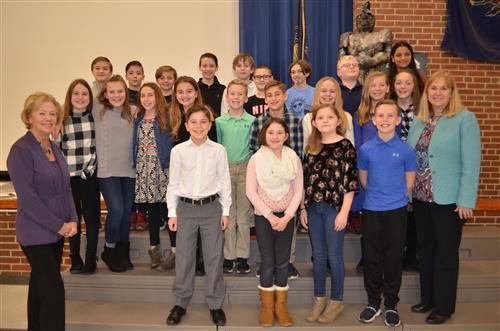 Students in Linda Raitt's fifth grade class at Buckingham Elementary School won first place in the Rendell Center for Civics and Civic Engagement Citizenship Challenge, earning them a check for $1,000 to be used for civics education and library of civics educational resources.
In September, the Citizenship Challenge asked students to consider a constitutional question and respond in writing. The question: Which part of the Bill of Rights do you think is the most important and continues to exert the greatest impact on Americans today?
Ms. Raitt's students answered the challenge, and took the position: "The First Amendment; which protects the freedom of speech, religion, press, the right to assemble, and to protest the government; was the most important amendment."
They also decided that the Second Amendment and the right to bear arms has had the biggest impact on their lives. "These students felt strongly that gun violence has to stop," Ms. Raitt noted.
After earning a spot among the top ten finalists from over 220 entries, the Buckingham students competed in a live, televised presentation at the National Constitution Center followed by a constitutional question and answer session with former Governor Edward G. Rendell, the Honorable Judge Marjorie Rendell, and other distinguished judges.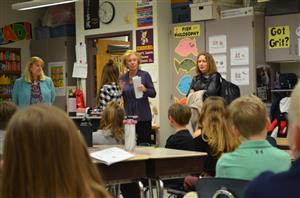 Judge Rendell and Beth Specker, executive director of the Center, traveled to Buckingham in order to present the awards to Ms. Raitt and her class and visit with the students.
"That fact that someone like Ms. Raitt would take the time to have kids perform and write an essay outside the curriculum is really special," Judge Rendell said, "If we multiply this throughout the Commonwealth, then all students will 'get there' in civics education."
After the presentation, Judge Rendell took some time to answer questions from Ms. Raitt's students on topics including her mission to expand civics education, her time as first lady of Pennsylvania, and why she chose to be a judge.
The students plan to use the winnings to travel to Harrisburg, Pennsylvania to visit the capitol and further their education of local, state, and national government. In addition, the students are putting together a video for other students in the school district on what steps to take and how to stay safe if there is an intruder on their school campus. The students hope to make a meaningful impact in their school community!
Congratulations to Ms. Raitt and her class, Gwen Alemao, Logan Arnold, Lexi Biruk, Constantine Cooper, Angelina Dan, Chase Donohue, Meghan Ellixson, Payton Karas, Aidan Koestler, Alora Meitzner, Owen Metzger, Dane Molnar, Nick Orlando, John Parker, Lia Picciotti, Jack Rogers, Ella Rowcliff, James Ruch, Matthew Rudy, Cari Ruiz, Kiran Sticker, Addison Tanner, and Maddie Young!