More than 100 CBSD Students Study in Spain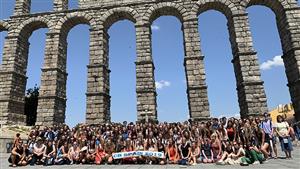 More than 100 Central Bucks High School students and their chaperones visited Salamanca, Segovia, Ávila, Toledo and Madrid!
As part of the Study Abroad: Spain course, 117 CBSD students traveled to Spain. Each student attended four mandatory night sessions and conducted research on a topic of their choice relating to any aspect of Spain.
The course is designed to simulate a mini study abroad so that students can see what study abroad in college will be like. Students spent four days in Salamanca, Spain attending classes taught by their chaperones each morning. In the afternoons, the group traveled to see first hand what they learned about that day.
As pictured here, students learned about the aqueducts in Segovia in the morning, and later that day we went to see them in person! Students also learned about medieval walled cities and in the afternoon traveled to Ávila to see one first hand. Other lessons included survival Spanish, Flamenco lessons (taught by a chaperone and then also a professional flamenco dancer in Madrid!), art and the Prado, sword making in Toledo and bullfighting.