Students Graduate from Biotech Center Program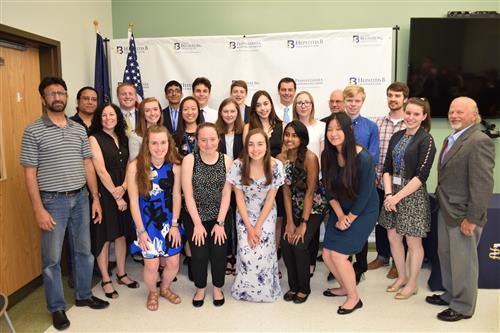 Students, scientists, parents, donors, school officials, and other invited guests gathered in a conference room at the Pennsylvania Biotechnology Center to honor "graduates" of the partnership program between the center and Central Bucks. Each of the program's participants were inducted into the Blumberg Alumni Association.
This local facility, home of the Hepatitis B Foundation, is one of the premier biotech incubators in all the United States and has been responsible for important developments in hepatitis C and hepatitis B research, as well as the development of successful biotech start-ups. Each day, fifteen students, five from each CBSD high school, were transported to the center, where they took AP Chemistry on site and engaged in an internship that lasted several months. Student participants then entered individual research projects into STEM competitions, where they performed remarkably well.
CB East Junior Madison Charingo gave brief remarks, during which she praised the inaugural program's success, "This year, an unfamiliar group of students from all three high schools in this district have joined to form a tight-knit community, united to navigate the inaugural year of this program. Through months of experience in the labs, we've not only gained proficiency and experience in the protocols we've been trained in, but we've gained a deeper understanding of many fields of study that could've never been provided in a traditional classroom setting. The research we've conducted is unrivaled by high school students across the nation, and because of this program, we all will enter our future careers with advanced knowledge and skills."
The program was funded in part through donations from Fred Beans Family of Dealerships. Mr. Beans was on hand to deliver keynote remarks, during which he praised the students, while encouraging them to continue to work hard, and set goals. He explained his steadfast belief that a person's character is largely informed by what they read, the movies they see, and the people they surround themselves with - and so making good choices is critical. He even brought along a list of suggested reading for each student.
Superintendent Dr. John J. Kopicki was filled with pride for the students, and gratitude toward the many individuals who made the program possible. He called out several individuals, who contributed greatly to the program's inception and success. Among those mentioned was Dr. Tim Block, President and CEO of the PA Biotechnology Center, whose life-long commitment to teaching and learning has touched countless lives in the Central Bucks Community and in medical science at-large; and Mr. Lou Kassa, Executive Vice President and COO of the PA Biotechnology Center, who was a driving force behind the creation of the program and has been essential for its continued success. Mr. Kassa developed the initial vision for the program along with Dr. Scott Davidheiser, former CBSD Assistant Superintendent, and Tim Kelly, Vice President at the Norwood Company and a CB South parent.
Others, without whom the program would not exist include Dr. John Kulp, Academic Director at the PA Biotechnology Center, CBSD Assistant Superintendent for Secondary Education Dr. Abram Lucabaugh, CBSD K-12 science curriculum coordinator Ms. Laura Enama, and CBSD Teacher Mr. Mark Hayden, all of whom continue to invest many hours into planning, implementing, and developing the program as it moves into year two. Ms. Jean Holmes, Vice President for Institutional Advancement at the PA Biotechnology Center, center mentors, research supervisors, and staff who assisted the students this school year are all also due a wealth of thanks.
Students who were recognized for their participation and research include: Sabrina Antonucci, CB East HS, Grade 12; Madison Charnigo, CB East HS, Grade 11; Melody Chen, CB West HS, Grade 11; Grace Enright, CB West HS, Grade 12; Kristina Holmen, CB East HS, Grade 11; Alec Maraska, CB West HS, Grade 11; Liam Meyers, CB East HS, Grade 11; Charan Santhirasegaran, CB South HS, Grade 11; Miranda Song, CB South HS, Grade 11; Lauren Spadt, CB South HS, Grade 12; Isabella Swartz, CB South HS, Grade 11; Jason Swope, CB West HS, Grade 11; Rishi Vaidyanath; CB East HS, Grade 11; Joyce Yoon, CB South HS, Grade 12; and Samantha Zanine, CB West HS, Grade 11.