Unami's Melinda Wang Wins National Writing Award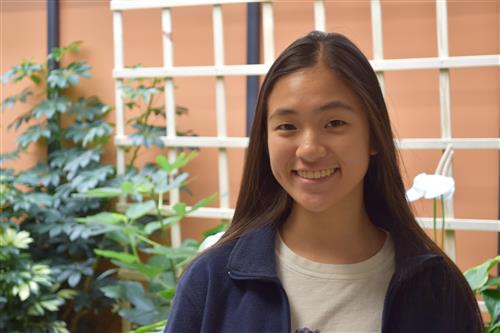 Eighth grade student Melinda Wang has been recognized as a National Medalist by the Scholastic Art and Writing Awards sponsored by the Alliance for Young Artists and Writers. Melinda competed in the category of humor with her essay "A Big Fat F in Friendships." She won top honors regionally and nationally. Melinda's work was judged for originality, technical skills, and the "emergence of voice and vision."
According to Executive Director Virginia McEnerney, "nearly 340,000 words of art and writing were submitted to the 2019 Scholastic Awards. Receiving a National Medal placed Melinda within the top one percent of all submissions."
Students submitted work in various categories including poetry, civil expression, dramatic script, flash fiction, memoir, and journalism. The 2019 Writing Jurors included approximately 200 literary agents, editors, professors, screenwriters, poets, and executives of nonprofit organizations from across the United States.
The Scholastic Art and Writing Awards began in 1923. Previous recipients include writers Sylvia Plath, Truman Capote, and Joyce Carol Oates. The awards have recognized artists and filmmakers including Andy Warhol, Kay WalkingStick, Lena Dunham, and Ken Burns. For this year's national awards ceremony at Carnegie Hall in New York City on June 6, 2019, the Alliance is presenting its 2019 Alumni Achievement Award to astronomer Dr. Lucianne Walkowizc, who was recognized in 1996 for painting.
Melinda's work is among the 2019 pieces published to the "Online Galleries" at www.artandwriting.org. Visit the site to explore all the student work or read Melinda's now here. She is also listed in the 2019 Yearbook, a complementary publication to The Best Teen Art and The Best Teen Writing anthologies.
Melinda commented about her work, "I began by letting my emotions pour out. Writing is a way of venting. In my free time, I like to express myself through diary entries."
Melinda had written her humorous piece for her own satisfaction. A month later, she decided to enter the Scholastic Art and Writing Awards because her older sister had done so. Melinda added, "At that point, I thought, 'Why not try?'"
"The English Department at Unami Middle School is delighted that Melinda decided to take this opportunity to let her writing be viewed by so many," Unami English teacher Lisa Canfield noted.
Melinda has plans to develop her talent further by attending a week-long writing camp in Philadelphia this summer. "The entire Unami community commends Melinda for her achievement and wishes her the best as she continues to build a portfolio of original literary works," Ms. Canfield added.