A Beautiful Space Grows out of Collaboration
Holicong Family and Consumer Science Teacher Yvonne Flath and MBIT Horticulture Landscaping & Design Instructor Gregory Smith recently collaborated on a renovation of the Holicong community garden.
Mr. Smith's horticulture and design students completely renovated the interior of the garden, reinforced the exterior of the space, and designed and installed a pathway from the cafeteria to the garden.
Mrs. Flath's garden club members will maintain the garden and look forward to their first harvest in such an esthetically pleasing space that is a beautiful improvement to the Holicong campus.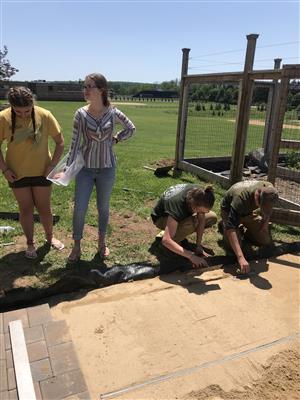 "Mrs. Flath and Mr. Smith have grown this garden project into something that is truly amazing," Holicong Principal Kevin Shillingford said, "It was great to see Mr. Smith providing instruction and help when needed, but also letting these students 'own' the work, and collaborate and problem solve as a group."
"We are already thinking about phase two - hopefully an outdoor classroom!" he added.