Alesandra "Sasha" Temerte, a senior at Central Bucks High School East, has been named the 2019 Bucks County High School Poet of the Year.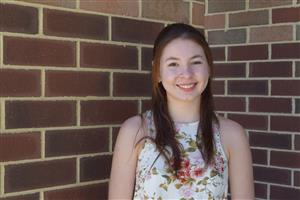 CB East Senior Alesandra "Sasha" Temerte has been named the 2019 Bucks County High School Poet of the Year, officials at Bucks County Community College announced. Sasha's poem was selected from among more than 100 entries in the 32nd annual contest, part of the Bucks County Poet Laureate Program administered by the college.
Sasha, who had placed third runner-up in 2018, won a $300 prize. As in past years, the number and quality of entries made the judges' task challenging, noted Professor Ethel Rackin, director of the Poet Laureate Program.
"We had 127 entries this year, which made the judging difficult," said Rackin, noting that the judges named a tie for first runners-up. "Overall, the work we received was thoughtful, and many of this year's poems were concerned with history, as well as the here and now."
When asked why she entered the contest, Sasha said, "I love to write and to share my writing with others because it allows me to connect with people on a meaningful level."
Judges were 2018 Bucks County Poet Laureate Carly Volpe and 2017 laureate Katherine Hahn Falk. Volpe said she was astounded by Sasha's talent.
"I believe this poet was born a firecracker. Or at very least, a poet," Volpe wrote, referring to the opening of one of the winning poems. "The line breaks are intuitive. When read out loud, the spacing makes sense. This is incredibly important when writing and reading poetry – especially if you want to be sure that it is just as powerful as you intended and can also translate your message in someone else's hands. It has."
Having entered the contest months before, the call to let her know she had one came as a surprise, "I had to ask and reconfirm a few times, but I was very happy, and ecstatic to have had the opportunity," she recalls, "It was very unexpected."
Sasha, who has already published her debut poetry book, Peace and Other Radical Ideas, says she's been writing as long as she can remember, but only shifted to poetry in ninth grade after she discovered slam poetry. She says the genre has since provided her with a catharsis for emotions, a platform for creative expression within a supportive community, and allowed her to connect with others.
"To me, words in a sentence are more than beads I string together with a pen. They're vehicles for stories that elicit powerful emotions, raise awareness, inspire generations, and save lives," Sasha said, "As such, the topics I gravitate towards most in my poetry are love, mental health, and politics/social issues."
Following graduation from C.B. East, she plans to attain a mathematics degree with a double major in either business, writing, or philosophy, with a goal to work as an actuary and earn an MBA.
"In essence, the plan is to be a leader by day and a poet by night," she added. "As cliché as it sounds, I hope that through writing and leadership, I'll successfully make a large-scale difference."
Several other CBSD students were among the finalists in The 2019 Bucks County High School Poet of the Year contest. They include CB South's Sharleen Banatte and Sophia Kolditz; and CB West's Amelia Betancourt, Stella Garwood, Emma Hodgson, and Katie Jenkinson,
One of the winning poems submitted by Alesandra "Sasha" Temerte:
// a poem about heartbreak or climate change //
You were born a firecracker,
birthed in flames
and smoke that smothered
your mother when you spoke.
You burned every building
you stepped foot in
without ever lighting a match.
You were born a graveyard,
clutching lives like
the wings of birds,
running across rapid rivers,
just the tips of your toes
brushing the water.
You never drowned.
But the birds' wings
floated as shredded feathers
to the ground.
You were born a paper cutter,
slicing lips with your tongue,
your sharpened nails
carving your initials
into everybody's jaws.
You knew how to destroy.
And I wish I could say
you destroyed everyone but me.
You were born a construction machine,
tearing everything to pieces
and pretending
that when the earth
is nothing but gravel and dirt,
you will build something new.
Something better.
Something actually worth
your attention—
you didn't have much attention.
You were born a black hole
to devour,
to devour,
to devour,
and devour—
you devour
other black holes.
I let you
devour
other black holes.
You—
you were born to burn,
and now,
you're taking me with you.

Sincerely,
Mother Nature