Tamanend Students Donate Winnings to Non-Profit Organization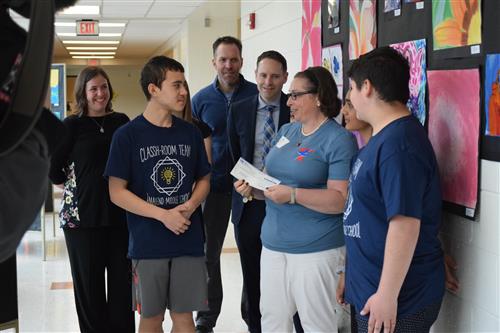 Tamanend students took on their teachers on FOX 29's the "ClassH-Room," a quiz show that pits students against their teachers in April. The team of Mason McClintic, Ben Busick, Heera Kalindindi and Cheyenne Torres emerged victorious, and the student team was awarded prize money totaling $500 - along with the glory of beating their teachers.
After the euphoria wore off - the students discussed what to do with their winnings. Ben, whose sister is an nurse, had learned a great deal about Mast Cell after she treated Taylor Nearon, who later succumbed to the disease. That was nearly two years ago, and since that time Ben's family and the Nearons have become close. He suggested presenting the team's winnings to the Super T's Mast Cell Foundation, named for Tammy Nearon's daughter, Taylor, whom she called "Super T."
When asked why they chose to donate the winnings, all four students agreed that they knew from the first moment that the award would certainly be donated to an individual or organization that could benefit from the dollars.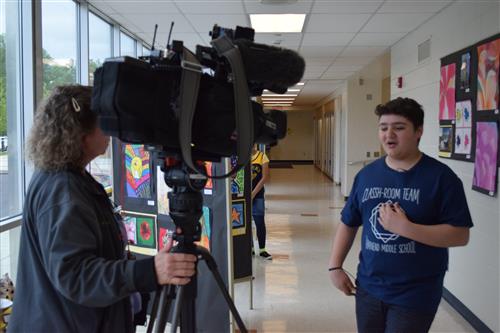 FOX 29 visited Tamanend recently, after Ms. Nearon contacted them to inform them of the selfless generosity demonstrated by the Tamanend students. The students were interviewed by FOX 29 news, enjoyed cake, and had the opportunity to present their winnings to Ms. Nearon in person.
"I think that more attention needs to be paid to this disease, and we're so glad that we can help with this gift," Ben said.
"Such an amazing group of students and teachers at Tamanend Middle School!" Ms. Nearon said, "[They] extended such generosity to our foundation."
The Super T's Mast Cell Foundation will host their "Superhero Showdown Race" on Saturday, October 5th. In thanks to the Central Bucks School District, the organization has established a discount code that may be used for $10 off any of the three events offered that day - just for CBSD. Any interested student or family should contact Tammy Nearon at supertsmcfoundation@gmail.com for details.
Learn more about the foundation and Mast Cell disease at www.supertmastcell.org.