Linden's Katherine Ojeda Makes an Impact on Former Student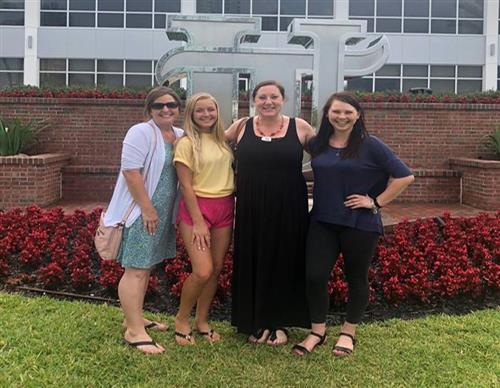 CBSD alum Taylor Boucher graduated the University of Tampa this past weekend with a B.S. in elementary education - and her mom Marilyn wants the world to know that this accomplishment is due in part to Linden Elementary School teacher Katherine Ojeda's (Taylor's 5th grade teacher) influence.
"Dyslexia loomed large and threatened to throw Taylor off course often. Katie along with Leslie Lippman, at Linden, encouraged her and instilled the idea that just because it's hard doesn't mean you can give up," Marilyn said.
"You have to try harder, work harder. Katie and Taylor have kept in touch and are now colleagues instead of teacher/student. We invited Katie to Tampa as a surprise for Taylor's graduation and she accepted and shared this amazing occasion with our family," she added.
"Thank you Katie for being you and for being exactly what Taylor needed to live up to her potential. We describe this visit and relationship as life changing and Katie described it as the highlight of her career and why she chose to become a teacher in the first place," Marilyn said.