CB East Teacher Seeks Help to Tell the Story of a Fallen Hero of World War II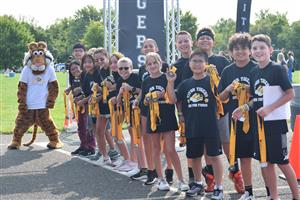 CB East Teacher Chris Johnson is researching the life of Staff Sergeant Charles Simcox, and is looking for help telling this hero's story as part of the "Understanding Sacrifice" program.
Produced by National History Day® and sponsored by the American Battle Monuments Commission (ABMC), the program takes eight educators from around the country on a journey of learning and discovery. By researching the story of an American service member who made the ultimate sacrifice during World War II, program participants can be the voice of these Americans who died decades ago.

Mr. Johnson will deliver a eulogy for Staff Sergeant Simcox at the Luxembourg American Cemetery in July. However, before he can do this, he needs help from those who may have known this Fallen Hero. Staff Sergeant Simcox lived near West Chester, Pennsylvania.
"Charles Simcox enlisted in the U.S. Army and served with the 317th Infantry Regiment, 80th Infantry Regiment. He landed in Normandy in August 1944 and with his unit saw considerable action. Wounded in September, he returned to his unit and served until his death on December 24, 1944, during the Battle of the Bulge."
"Simcox was one of 11 children. His younger brother, Walter, also served our nation during World War II in the U.S. Navy. Many of Simcox's family still live in the area where he grew up. He attended West Chester Junior High School and worked for Bickman Paper before joining the U.S. Army."
"I am most interested in finding anyone who may have served with Staff Sergeant Simcox or who knows someone who did. I am particularly interested in learning the circumstances by which he was awarded the Distinguished Service Cross."
If you have any information about Staff Sergeant Charles F. Simcox, please contact Johnson at chrisjohnson010163@gmail.com.