2018-2019 School Year News
CBSD Dedicates Coach Pettine Sports Complex at CB West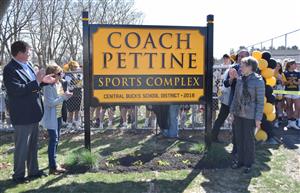 Dozens gathered to see the practice fields at CB West dedicated in honor of the school's beloved football coach, the late Mike Pettine. A sign designating the facility as the "Coach Pettine Sports Complex" was unveiled as his widow, Joyce Pettine, school board directors, administrators, coaches, former players, students, and other guests looked on.
Watch the full dedication ceremony here.
CB West Principal Tim Donovan, a CB West graduate and former student athlete who played under Pettine, welcomed the honored guests and expressed gratitude to the school board, Superintendent Dr. John Kopicki, and others who made the state of the art facility possible - including the many thousands of coaches and student athletes who "left so much of themselves on these fields," affectionately referred to as "the cow pasture."
In making remarks on behalf of the CBSD Board of School Directors, Board President Glenn Schloeffel noted, "Beyond a love for the game and teaching the game, [Coach Pettine] was a mentor, a dedicated father and husband, a friend, and a coach in every sense of the word."
Schloeffel asked several alumni from West who played under Pettine for a few words that described the coach. Words that came to mind included "...driven...perfectionist...hard-working...discipline...intense, and even more intense," Schloeffel said.
He also read off the coach's record, which includes and astounding 326 wins, 42 losses, 4 ties, 4 state titles, and an amazing 55-game winning streak.
CB West Alumni and former student soccer player Maggie Moyer spoke reverently about Pettine's far reaching influence beyond football, "It was his hard work and dedication to his team that helped so many teams see what it meant to be part of something great," she said, "I hope future athletes understand what a privilege it is to be a part of this community," Moyer added.
"This field is named for the greatest coach to come through CB West...his impact will be felt for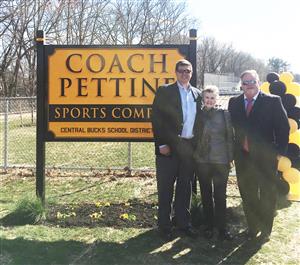 generations to come," she said.
Principal Donovan introduced Mrs. Joyce Pettine, who shared comments on behalf of the Pettine family, "I'd like to express our gratitude for all who worked so hard to make this dedication a reality."
"We are humbled that the district has chosen to honor Mike in this way," Mrs. Pettine said, "His teams were forged on these practice fields."
"[his athletes] learned the core fundamentals of football here, but more importantly, the life lessons that come along with playing any team sport...commitment, teamwork, and sacrifice," she added.
Mrs. Pettine then joined School Board President Glenn Schloeffel, Director Sharon Collopy and Superintendent Dr. John Kopicki in unveiling the sign that honors Coach Pettine and marks the entrance to the beautiful facility, before cutting a ribbon while student athletes looked on and cheered.