CBSD Hosts Celebration of Our Schools Event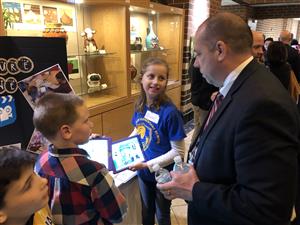 Nearly 400 students, teachers, parents, community members, administrators, and invited guests attended Superintendent Dr. John Kopicki's inaugural "Celebration of Our Schools" event.
Held at CB South High School, the event kicked off with a showcase of instructioal technology and student art in the South auditorium lobby. More than 183 individual works of student art were displayed and organized by district art teachers, while more than 100 students and teachers showcased and demonstrated exciting classroom technology in "booths" around the perimeter of the room.
Hundreds walked among the displays, taking photos, tapping iPads, and talking with teachers and students.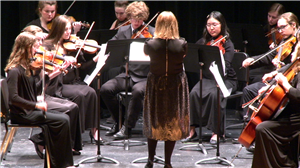 Following the showcase, Superintendent Dr. John Kopicki made a presentation that featured data and updates on progress in strategic goals across all operational and instructional areas - called "Pillars of Excellence." These updates also included details on the district's vision for the future, "Like a mountain climber, we need to reach for the next level, and not back down from the next peak – we must challenge ourselves every day. Together, we must have the singular focus to do the best we possibly can for each of our students."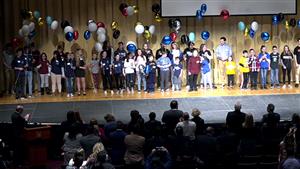 Each of the district's high schools sent an ensemble to perform for the gathered crowd. The CB East Select Choir, CB West Chamber Strings, and CB South Jazz Band gave amazing performances!
Dozens of student volunteers - including 20 representing the CB Cares Educational Foundation, helped to direct attendees, distribute programs, and direct special guests including state and local legislators.
As a surprise finale, 100 CBSD students of all ages took the stage with balloons in each of the three high schools' colors as "True Colors" played. The final video featured CBSD parents, students, teachers, and staff sharing why they are proud to be part of Central Bucks.
---
Watch the complete event!
Celebration of Central Bucks from Central Bucks School District on Vimeo.
---
Get the Details:
Download the event program, featuring names of participants here.
Download Dr. Kopicki's presentation here.
The presentation featured six short videos - these can be viewed at the following links:
Download a copy of Dr. Kopicki's complete remarks here.
---
If you have feedback on this event, the program, or the content of the presentation - please share it with Angela Linch, communications and public relations administrator, at alinch@cbsd.org, or by calling 267-893-2073.