Saturday, May 25, 2019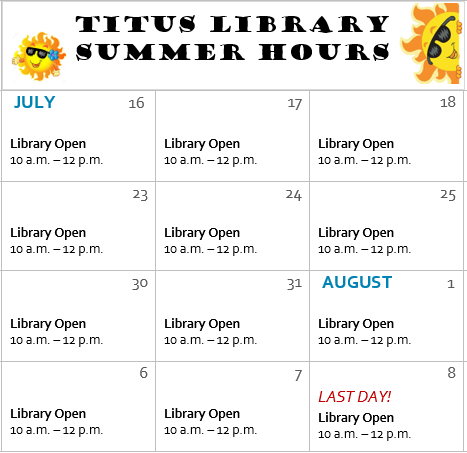 "I don't have anything to do!" Yes, you will hear that sentence this summer, and Titus is here to help you be prepared!

The Titus Library will be open July 16 – August 8 on Tuesdays, Wednesdays, and Thursdays from 10 a.m. until 12 p.m. to give kids that much needed "something to do" – read!

Visit us and get your kids reading to beat summer boredom and ensure future success. Reading builds confidence, improves our understanding of the world, and is just plain fun! Hope to see you this summer!

BONUS: Click here for a list of fun, summer podcasts to listen to with your kids!
Library Staff


Shannon O'Connor, Librarian

267-893-4500 x1541


Kate Gozdan, Library Aide