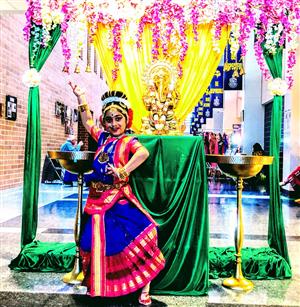 Anisha Cheruvu bubbles over with positive energy. The Titus Elementary School second grader, who took regular "giggle breaks" during her interview, would make anyone smile who had the joy to be in her presence.
Anisha is also an accomplished dancer, who has trained in both "Bollywood" and classical "Kuchipudi" dance styles. Kuchipudi, which Anisha has studied for about two years, is described as "One of the classical styles of Indian dance. Around the third and fourth decade of this century it emerged out of a long rich tradition of dance-drama of the same name." (Centre for Cultural resources and Training, Ministry of Culture, Government of India. Kucipudi. Retrieved from http://ccrtindia.gov.in/kuchipudi.php). Kuchipudi originated in a village named Kuchipudi in the Indian state of Andhra Pradesh.
Anisha practices – a lot. "I have class with my teacher at her house with my dance friends on Tuesdays and Thursdays," she explains, "It's more than an hour, but if we're preparing for a show, it's even longer!"
When asked why she dances, her answer is simple. "I like doing it and I put my heart in it!"
With her team, Anisha has performed at one national and multiple local competitions and performances. Anisha's talent and enthusiasm for the art shines through whenever she dances. Her father Narayan notes, "Renowned dance 'Gurus' who had a chance to watch Anisha perform recently have complemented Anisha and they see Anisha as the 'Kuchipudi star-in-the-making'!"
Anisha's ability can make her classes even more challenging, as she is often called upon to perform with older artists. "Sometimes it's hard to be the youngest," Anisha said. But she perseveres, because she loves the work.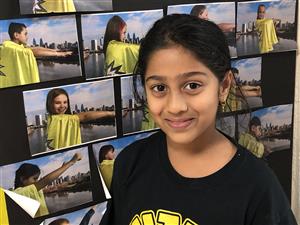 Anisha draws support from her teacher when things get hard. When learning a more technically difficult dance move that would require her to spin on one foot, she said, "I kept falling down, but my teacher gives me confidence, and eventually I got it." Anisha often remarked that when things get hard, she keeps on trying.
Currently learning a new song, Anisha explains why this activity brings her so much happiness. "Not very many people do this kind of dancing," she said, "It's a privilege to do this, and so it's kind of special."
Anisha's teacher, Amy Scherr, came to know that Anisha danced just recently, as part of a "superhero" classroom activity. "She's our inspiration," she said.
When asked what advice she would give to someone with a passion for learning something new, Anisha suggests, "Keep on working, if you set a goal and work to it, and put your heart into whatever that special goal is, you'll get it!"
We're CBSD Proud of Anisha and her "can do" attitude!