CBSD ATHLETIC DIRECTOR NAMED 2019 AD OF THE YEAR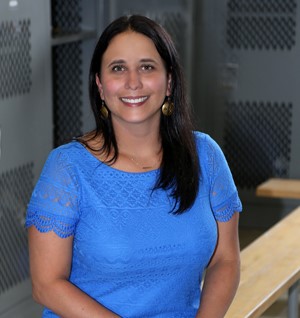 Pennsylvania State Athletic Directors Association Names Danielle Turner, District Athletic Director of Central Bucks School District, 2019 Athletic Director of the Year
Doylestown, PA – The Pennsylvania State Athletic Directors Association (PSADA) has selected Central Bucks School District (CBSD) Athletic Director Danielle Turner as the 2019 recipient of the PSADA Athletic Director of the Year Award. "Your fellow athletic administrators and PSADA are recognizing you for your efforts, your dedication, your leadership, and your achievements in athletic administration," the announcement read, "Please be aware that you have made a difference for student athletes and coaches and this award recognizes that fact."
Turner will receive her award at a March ceremony in Hershey, Pennsylvania. In conjunction with this honor, The Pennsylvania State Athletic Directors Association Foundation will provide a scholarship to one senior at each of Central Bucks' three high schools.
"It is a great honor to be named PSADA's Athletic Director of the Year. Being surrounded by so many talented student-athletes and excellent athletic administrators and coaches has made my job a pleasure and I am proud to be able to represent Central Bucks as the District Athletic Director," Turner noted.
Turner oversees athletics for Central Bucks South, Central Bucks East and Central Bucks West high schools, as well the district's five middle schools. In this capacity, Turner has brought uniformity to the financial operations for booster clubs at each high school and served as a team member on capital projects relating to athletics. She also negotiated a sponsorship agreement with Nike and BSN to provide athletic uniforms for the district.
"It's no surprise to us that Ms. Turner has been recognized in this fashion," CBSD Superintendent Dr. John J. Kopicki remarked, "She continues to excel at everything she does."
"Danielle is a leader among her peers, and a strong voice for students – making them the center of any decision," Dr. Kopicki added, "She deserves this congratulations for her hard work and it's an honor to have her as part of our Central Bucks team."
Before ascending to her current position, Turner served as Central Bucks South's athletic director from 2014-2017, during which time she served as the Suburban One League Chairperson for field hockey, girls lacrosse, girls and boys swimming and competitive spirit. Turner has hosted and managed numerous Pennsylvania Interscholastic Athletic Association (PIAA) tournament games, and the school's athletic teams were consistently in the hunt for championships in the Suburban One League, District One, and state levels during her tenure.
Outside of her commitment to Central Bucks, Turner is an active member of PSADA. A certified athletic administrator, she has taught leadership courses at PSADA's annual conference through the National Interscholastic Athletic Administrators Association. She represents junior high schools for the PSADA's executive council and served as a PSADA delegate.
Turner has also served as PIAA District One treasurer since 2015 and female athletic representative since 2012. Her role as female athletic representative led to an appointment to the PIAA Steering Committee, and an election to a two-year term on the PIAA board of directors from 2017-19. She also serves as the district one competitive spirit chairperson and is a member of the PIAA Competitive Spirit Steering Committee.
Turner graduated summa cum laude from La Salle University, where she was the captain and four-year starter on the women's soccer team. She started her career in athletic administration in 2005 as athletic director, English teacher and head soccer coach of her alma mater, Nazareth Academy High School in Northeast Philadelphia. She coached soccer for nine seasons and had stints as the head lacrosse coach and junior varsity softball coach. As athletic director at Nazareth, she oversaw the construction of a fitness center, a renovation of the gymnasium and the installation of a new scoreboard for the soccer field. She was also the Athletic Association of Catholic Academies (AACA) chairperson for soccer and softball and served as AACA vice president and secretary.
In her free time, Mrs. Turner loves antiquing and adding to her vintage Pyrex collection. She married her husband John in 2013 and lives with him and her bulldog Tucker in Ivyland, Pennsylvania.