January is School Board Recognition Month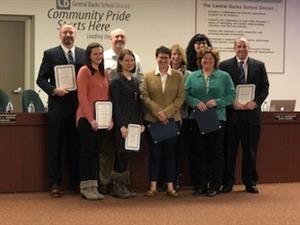 Dr. Kopicki's remarks:
"These nine volunteers stepped forward to serve the students of this school district, setting aside hundreds of hours per year to read countless documents, attend dozens of meetings and school events, and so much more. Their guidance, dedication, and selfless service benefits each student in this community. They were elected to represent their friends and neighbors, and as a result – they have been called upon to take on deep challenges and work toward solutions for the benefit of our students and staff. Through it all, they have worked as a team, taking seriously their responsibility to act as a School Board of nine – and not as individuals.
The personal experience, expertise, and perspective they bring to this work is symbolic of what makes the Central Bucks School District such an amazing place. I am personally grateful to each of them for their compassionate leadership, their unfailing support, and their consistent willingness to go above and beyond for this community of students and educators - and the families and residents of the Central Bucks School District.
For your personal time spent away from your own families and so much more, we thank each of you – Glenn, Karen, Dennis, Nicole, Tracy, Sharon, Jodi, Beth and John. From the bottom of our hearts – thank you."