2018-2019 School Year News
$3K Donation to Hurricane Florence Relief Helps Communities Still in Need
Three months after Hurricane Florence blew in, the winds of change are more positive for children at Topsail Elementary in Pender County, N.C., thanks to the time, ties, and treasure of the Linden community.
In mid-September, just as we were settling into the new school year here, Hurricane Florence made landfall with sustained winds in excess of 100 mph in Wilmington, N.C. Before leaving the area, the colossal storm dumped 40 inches of rain on the coastal community.
Topsail Beach was cited as one of the worst areas hit. A key local school, Topsail Elementary, closed for 29 days due to damage and mold growth. When it opened at the end of October, ceiling tiles were still missing from many classrooms, according to local news.
But thanks to the loving kindness of the Linden community, Topsail Elementary kids and teachers were re-equipped over Christmas break with $3,000 worth of backpacks and school supplies.
"This is such an amazing, kind gesture," said Melissa Wilson, the school principal. Wilson spent more than two weeks living at her school after Florence hit to help supervise the school-as-community shelter. "What a sweet surprise."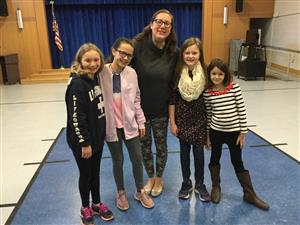 Fifth-grade students Emily Kelly, Kadence Garrano, and Charlotte Haubrich; and third-grader Abby Kelly, together designed and led a double-headed fundraiser. The first part was a "reverse" Trick-or-Treat, in which school supplies were exchanged for candy on Halloween. The girls then sponsored a contest to incentivize students to bring in additional supplies: The classroom with the largest donations received an in-school breakfast feast.
At roughly $3,000 in donations, their efforts were demonstrably successful.
Another Linden student, an N.C. native, and his family also pitched in by coordinating the shipment, connecting Linden with Topsail Elementary via his family's ties to the coastal community. Emily's mother, Jessica Jones, supervised the girls' activities, and facilitated and sustained the relationship with Wilson until the shipment was received. The UPS store in the Buckingham Green shopping center donated $100 in supplies; Owner Vicky Child and Manager Jim Edgar worked hard to contain shipping costs to $500.
"Wow! Look at all that stuff!" Wilson exclaimed, when she saw pictures of the donations she was to receive.
Linden's impact is more than just stuff, though. For some Topsail families, it's filling a basic need.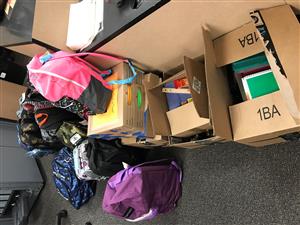 Today, several communities in Pender County continue to live without water and power. Some families are still living in tents and campers, according to local news. In all, 4,000 homes were damaged or destroyed after the largest tropical cyclone in North Carolina's history. That's the equivalent of all the students at Linden, Lenape, Holicong, C.B. East and C.B. West combined.
The girls hope to maintain their connection with Topsail Elementary throughout the year via an extended learning program that continues to follow the school's progress, while making ties to curriculum in areas including English, science, and more.