Return to Headlines
A Message from Superintendent Dr. Abram M. Lucabaugh
Good evening Central Bucks families,
Today was a very difficult one for the students and staff at Central Bucks High School South, as well as our South families. It created a sense of uncertainty and fear across the entire building and community, and we are grateful to our local police departments, our district crisis response teams, and the CB South admin and staff for their professionalism and diligence in handling this situation in an expedient and careful manner.
Our students and staff are safe; however, the emotional toll of something like this is real for everyone involved, including our community. Each day, you send us your students. Each day, we acknowledge our awesome responsibility to keep them safe, both physically and emotionally. We acknowledge the responsibility we have to meet every student where they are and educate them. Uplift them. Provide them with a strong foundation on which they can construct a life of excellence. We acknowledge our responsibility to care for the mental wellness of our students and staff, for when students feel safe, encouraged, cared for and valued, they perform at their best.
In the best of times, such responsibility is daunting. In the worst of times, it is exponentially more difficult.
Right now, our community is struggling, as are many across the nation. In June, we felt a sense of hope that normalcy was upon us once more. As summer came, that hope was buoyed, only to evaporate in late August as news of mandates and other measures reopened wounds that had only just begun to heal. Debates over masking, health and safety plans, vaccinations, curriculum, mental health and more quickly filled the space of public meetings, often reflective of the discord, frustration and exhaustion within our community, and our larger society.
We are at a critical intersection as a community and a district. If we are to preserve this proud community of ours, it will require our collective thinking, our wisdom and our shared willingness to restore us. It will require us to quell the vitriol, the judgment and the incivility. It will require us to look within and rediscover that the strength of this community is still, and will forever be found in, its people.
All of its people.
Every single person in our district and our community matters. Regardless of ethnicity, religion, orientation, identity or political affiliation, every single person has value, and deserves to be treated with the dignity and respect afforded to them by virtue of their humanity. Yes, we will have differences. Sometimes we will not agree. In some cases, we will never agree, and in the end, that is not necessarily a bad thing. Differences are not something to be feared, or used as leverage for sowing discord, as much as they are a pathway for understanding others' perspectives … if we allow them to be.
Ironically, as we approach the Thanksgiving break, what better time than now to take a moment to be grateful for what we do have, and to foster the hope that we can return to what we were. I will never lose my faith that we can move forward as a community to serve our students. Sometimes it takes a traumatic event, or the hint of one, to give us pause and remember what really matters in this world. May we not lose sight of that in the midst of everything thrust upon us.
Sincerely,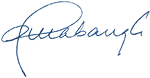 Abram M. Lucabaugh, Ed.D.
Superintendent of Schools