Return to Headlines
CBSD Hosts Community Breakfast
More than 70 community servants including religious leaders, legislators, parent volunteers, chiefs of police, joined Central Bucks School Board Directors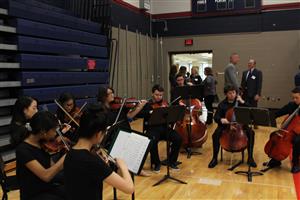 and administrators at C.B. East High School for the inaugural community breakfast hosted by Superintendent Dr. John Kopicki.
Attendees enjoyed breakfast and conversation while entertained by C.B. East students before hearing a presentation by Dr. Kopicki on the strategic planning work that the Board, administration, and staff engaged in over the past year with input from parents and community members.
"We are proud of our students – and of the excellent education that is delivered here and in all our schools," Dr. Kopicki said, "Critical to maintaining that success, however, is a continuous commitment to carefully examine what we do well, and what we can do better," he explained.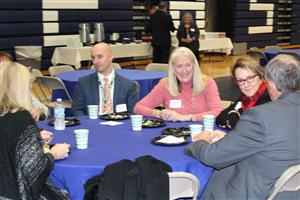 "This work is necessary in order uphold this tradition of excellence, and ensure our students continue to have access to the resources and opportunities that will enable each of them to reach their greatest potential," Dr. Kopicki added.
The presentation went on to outline key accomplishments in each of the five "pillars" of excellence that evolved as part of the strategic planning work. "All of these pillars are built around teaching and learning, which is central to all that we do," Dr. Kopicki noted.
He explained that the key accomplishments and vision outlined in the presentation were the start of a larger conversation about the future of Central Bucks schools, and invited the participants to attend a more detailed "state of the district" presentation planned for January 31 at C.B. South High School. This public event will include student performances, presentations, and more. All district stakeholders will be invited and encouraged to attend.