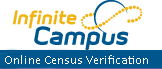 Online Census Verification is a feature available in Infinite Campus Parent Portal. Each year, the Central Bucks School District asks our families to fill out a Census Verification Form. This form ensures that student information is accurate. This year, we are asking that you complete your family's Census Verification Form online by September 16, 2016.


If you do not have a portal account, click HERE to complete a request.


Important things to know before you get started:
It can take 20 minutes to complete this form based upon your family size and number of non-household emergency contacts you enter for each student.

Note: If you are unable to complete all the information at one time, you can Save and Continue and pick-up where you left off.




Most of the information will already be completed, but you must still review and Save/Continue after each tab to proceed.


A

red

asterisk (

*

) indicates a required field. All asterisked fields must be completed under each tab to proceed to the next.


Once you have completed each tab, the tabs will be shown in

GREEN

and at the final screen there will be a Submit icon you must click to complete the verification.


Examples of the various tabs/screens can be found in the Online Census Verification Help Guide or viewed below.


*
*
Hover over the top right of the window below to use the Pop-Out option to view a larger version of the instructions.
**