Welcome to CB South's Distance Learning Resource Page. This page can help to guide you to instructional activities for your student(s). To access assignments, activities, resources, and other course information, please visit your teacher's individual website located here. Teacher sites will be accessible on Tuesday, March 17th.

If your child receives instruction from special education or services, please visit their websites for all subjects which are taught to your child by these professionals rather than the regular education teachers. Distance Learning activities will be provided for all students in each of their current classes. If you have any questions about your student's course or assignments, please reach out to the individual teacher(s).
Distance Learning Phase 2 - High School Schedule

Please see the daily schedule for Distance Learning Phase 2 below.
A/B Day Schedule - April

Please see the image below for the A/B Day schedule for April 2020.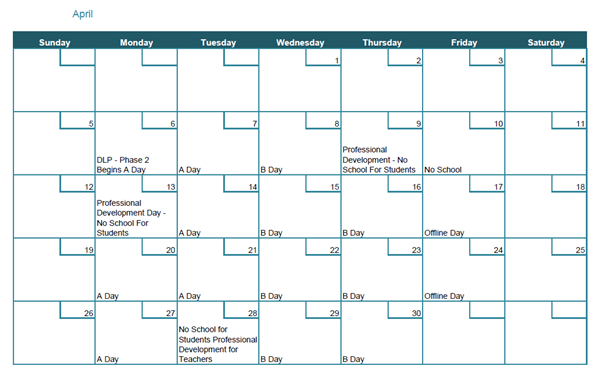 Video List

| | |
| --- | --- |
| | We asked CB South teachers to share their favorite motivational quotes with us! #CBSouthMotivation |
Nurse
For resources from the CB South Nurses' Office, please visit Mrs. Willingham's website located here.

Contact Information

Lori Willingham - Certified School Nurse - lwillingham@cbsd.org
Counselors
For resources from the CB South counselors, please visit their collective website located here.

Contact Information:

Class of 2020

Mr. Tom Hill - thill@cbsd.org

Mrs. Michelle McGroggan - mmcgroggan@cbsd.org

Class of 2021

Mrs. Taryn Barrett - tbarrett@cbsd.org

Mrs. Laura Ladley - lladley@cbsd.org

Class of 2022

Mr. Kerry Monk - kmonk@cbsd.org

Mrs. Karen Davis - kadavis@cbsd.org
Additional Resources

Should you or your family need additional support during this time, please reach out to your student's House Principal or the District Social Worker for the South Cluster.

House Principals:

Mr. Joseph Piselli - Class of 2020 - jpiselli@cbsd.org

Dr. Matthew Gale - Class of 2021 - magale@cbsd.org

Mrs. Jennifer Opdyke - Class of 2022 - jopdyke@cbsd.org

Social Worker:

Raquel Riad - rariad@cbsd.org