Have you ever heard of the "bell curve?" Chances are that if you haven't, you've been a victim of it. I use the word victim because that's essentially what this approach to grading does: it creates a victim mentality that student achievement is preordained - destined to fall into a predetermined curve of proficiency. Here's a quick overview:
Let's say that a teacher has 20 students in a class. Using the bell curve theory, the grade distributions of any assessment shoud resemble a "bell" shape to indicate the number of A's, B's, C's, D's and F's earned by students. Visually, it looks like this: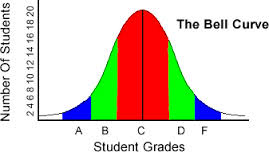 In its simplest explanation, the bell curve represents a statistical plotting of the probability of student grades and has been utilized as a tool in education for far too long. Essentially, it states that in any group, there should be a proportionate number of grades earned, and those grades should shake out in the shape of a bell - meaning theoretically that a few students should earn A's, a few students should earn a grade of "F," and the rest fall into the continuum with the majority earning "C's."
How inspirational.
And defeatist.
Sad to say, this mentality has permeated education for over a century, and I surmise it has not only misrepresented human potential, but also buried it. It's a misguided, negative and assumptive practice and it needs to be banished. Here's why.
The bell curve has created a set of dangerous expectations. For example, administrators (of which I am one) have been misled into thinking that if a teacher has a class of 30 students, and if that teacher subjects her 30 students to rigorous instruction, it stands to reason that only a chosen few should manage to eek out that elusive "A" while the remaining unfortunate souls succumb to the statistically rigid power of the curve, hoping to cling to the middle in an effort to stay afloat. Is this really fair?
Imagine if the place that fixes your car utilized the bell curve theory? Better yet, what if surgeons, chefs, lawyers and contractors subscribed to this mindset? How frightening would that be?
Back to our teacher of 30 students. Historically, if a teacher has a class of 30 students and 25 of those students receive an "A" in the course, the teacher's practices would be called into question because of the assumptive thinking the bell curve creates. In essence, the assumption would be: the teacher is too easy.
How unfortunate.
What if it meant something else? What if maybe ... just maybe, those results indicated that out of 30 students, 25 truly achieved authentic mastery? Isn't that what we want? Does a football coach hope that only a select few of his athletes perform at a high level while the others fill in the predestined bubbles of decreasing ability? Do our military commanders strive to create batallions where only a few are competent and then receive commendation for perceived effectiveness? In the real world, such a disparity would be condemned as a gross failure. In education, it's considered an affirmation of teacher rigor and toughness.
I say it's time to call it what it really is: disrespectful and demeaning. Our goal should be to make every student, regardless of the pathway he needs, successful. It's time to for some straight talk about the bell curve, so stay tuned for what that looks like.
-Mr. Lucabaugh