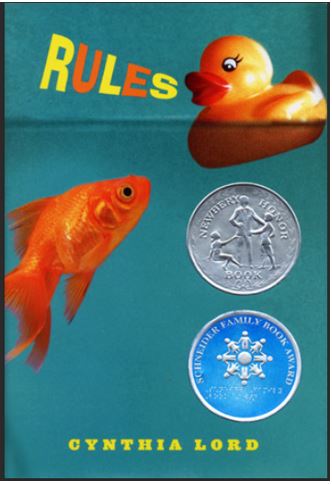 2019 One District, One Book Selection
What is One District, One Book?

Every student in specific grades has the opportunity to read the same book over the course of a month.

Each of those students is able to receive a copy of the book to keep!

Every faculty member who works with those students gets a copy of the book to keep!

Participants read the assigned pages at home with family members (approximately 11 pages/15 minutes a night).

Share in the story with the readers in your community!

What is the book, Rules, about?

Rules is the story of a girl named Catherine who feels like her family life revolves around her brother, David, who has autism, and his needs. She loves David and does what she can to help him, but she also wants to be noticed and strives to make friendships outside the home. It's a realistic novel about family dynamics and sibling love that celebrates Catherine's introspectiveness.

Is the book a mandated part of the curriculum?

One District, One Book is not mandated or part of the curriculum. Is it meant to provide a "jumping off point" for family conversations about the themes in the book. Any discussion or activities surrounding the book are optional and intended to provide opportunities for students to connect around a common story and characters.