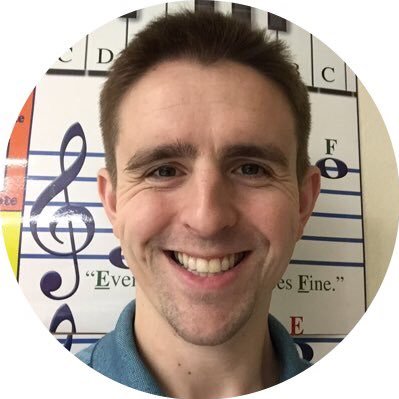 Hi everyone! I am in my 14th year of music education and I am very excited to be the middle school choral director at Unami Middle School.

I started my career as a high school choir director for 2.5 years, spending time at Ephrata High School in Lancaster County, and York Suburban High School in York County. At both programs, I directed four different choral groups, and was the founder of the all male acapella group "The Acafellas" and the all female acapella group "Lady Sweetnotes". I was also the vocal director and pit orchestra director for two high school musicals: Crazy for You and Footloose. I also taught various music electives such as Music Theory I/II, AP Music Theory, Music Appreciation, Guitar I, Guitar II, Voice Class, and History of Rock.

I then spent about 4 years as the assistant music director of the Chester Children's Chorus in Chester, PA. Chester is one of the poorest cities in America, and this wonderful program allowed any student from any school and Chester that loves singing to audition for this group. As the assistant music director, I directed the training chorus (3rd grade), Junior Choir (4th grade) and the Advanced Junior Choir (5th graders). I was also the choir piano accompanist for the concerts. You can find out more about this amazing organization by clicking here.

I then spent the next six years as the general music teacher at Lawrenceville Elementary School in Lawrenceville New Jersey. I taught every student in grades Pre-K through 3rd grade, and I oversaw 5-7 concerts a year, including: Winter Concert (1st, 2nd, 3rd grade), 3rd Grade Musical, Young Composers Night (an all iPad Concert event), 2nd Grade Chorus Concert, Kindergarten Concert, and the 3rd Grade Instrumental Concert (Tone Chimes and Recorders). If you'd like, you can see what I was up to all those years by going to my Twitter page I kept at this job: @LESMusicMan, or www.twitter.com/LESMusicMan

And then, during the 2019-2020 school year, I began my journey in the Central Bucks School District, and the rest has been 3 wonderful years of history. We've had 2.5 musicals (Rock of Ages (cancelled), Addams Family, and Willy Wonka Jr). My two after school choruses - Warrior Chorale and U-Tunes - have done wonderful things in the district and beyond, and I've had a real blast working with the 7th, 8th, and 9th graders in chorus class each year.

I am a vocalist, pianist, guitarist, drumset-ist, and iPadist. I am happily married to my wife Kerry Ann, and have four wonderful children ages 10, 8, 6, and almost 4! My hobbies include: listening to music... a LOT of music, and talking about it with people, playing ping-pong, playing ultimate frisbee, Lord of the Rings and all things Tolkien, diehard Phillies Phan and Eagles too... and of course.... I love directing choirs!