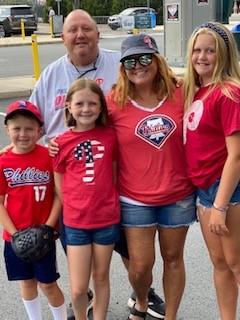 Phone: 267-893-3500 x3550
Email:
Degrees and Certifications:
Mrs.

Falcone

Hello First Grade Superheroes and families! I am excited to meet all of you and get to know you. First, I would like to tell you a little about me...I am proud to say that this is my 21st year as a Jamison Jet! J-E-T-S! Jets! Jets! Jets! I am always thrilled to welcome new Jets to this amazing school and look forward to teaching them all about our four main JET attributes: respect, responsibility, sportsmanship and safe community.

I began my teaching career at Jamison Elementary after graduating from Shippensburg University in 2001. I taught kindergarten at Jamison for four years and then had the opportunity to teach 3rd grade for seven years. Several years ago I was given the opportunity to return to my passion and my true love, teaching in the primary grades. I taught an AM Kindergarten class for one year and then was given the amazing opportunity as the Extended Day Kindergarten for six years and last year I had the opportunity to teach FIRST GRADE and I fell in love...so, here we are, FIRST GRADE, year two for me!

Teaching is a true passion for me, as well as being a wife and mother. My three children at home are growing fast. My oldest, Maeve, is 12 years old, entering junior high at Abington Junior High School, and almost as tall as me (but only standing at 5ft tall myself that may not say much..haha!). My second oldest, Violet, is 10 years old and is ready for some fifth grade adventures. Finally, Joseph is 8 years old and is ready for third grade adventures! My husband, Joe, is also a teacher,who actually teaches second grade at the school where our children attend, in Abington School District at Copper Beech Elementary School. We always have a great deal to talk about and stories to share! Together our family enjoys time at the beach, on Long Beach Island, playing soccer and many other sports, Irish dancing, taking our puppy, Ruby, for walks and spending time with our extended family and amazing friends! We are a family that is always ON THE GO and I wouldn't want it any other way!

I am looking forward to the 2021-2022 school year. On the Jamison website we have a SUPPLY LIST posted that will help get our SUPER year off to a SUPER start! I look forward to seeing everyone on our first day of school: Monday, August 30th. You also have a chance to visit our classroom before the first day at our Meet and Greet and that will take place on August 26th from 3:30-5:00pm.

For right now, enjoy the remaining summer days and together we will be SUPERHERO STRONG!