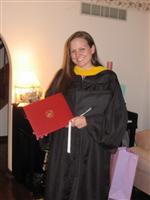 Phone:
Email:
Degrees and Certifications:
Miss Kathleen C. Bortz

Here are a few facts about me, so that we can get to know each other better:

1) I graduated from Temple University Summa cum Laude. That means I worked REALLY HARD and always did my best!

2) I grew up in lower Bucks County; attending Neshaminy School District through 8th grade, and then graduating from Villa Joseph Marie H.S. in 2002.

3) My favorite color is GREEN.

4) My birthday is December 1st.

5) I L-O-V-E to read! Some of my favorite books are anything by Mo Willems, Harry Potter, Little Women, and Oh! The Places You'll Go!

6) I also L-O-V-E MUSIC! I've been known to play quiet music during class time, to help us all stay calm and focused :)

7) In 2017 I received my Master's Degree in Educational Leadership from Delaware Valley University. I spent the year "interning" with many different leaders in our district to learn about being an administrator.

8) In November of 2014, I finished the Pennsylavnia Writing and Literacy Project. This means I am a National Writing Project Fellow - essentially I love to write and teach writing!

9) One of my favorite things to do is travel! I have been to some amazing places, like Croatia, Belgium, Amsterdam, Santorini, Paris, London, Bermuda Ireland, Mexico, Canada, Alaska, California, Nevada, all up and down the east coast, and to a number of islands in the Caribbean. I hope to some day visit each of the 50 states and each of the 7 continents.

10) I am more passionate and enthusiastic about my job than I ever knew would be possible. Teaching is a part of who I am, and I CAN'T WAIT to be your teacher!